Ascension Thursday Mass Schedule
Wednesday, May 17th - 4:00pm
Thursday, May 18th - 7:30am; 12:10pm; 5:20pm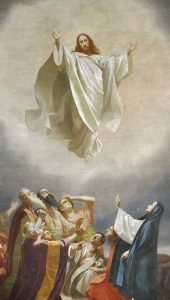 Holy Day of Obligation
Church News
Dr. Ralph Martin Talks

-

Our visit from Dr. Ralph Martin was a great blessing! If you missed his talks, you can view them here:

Mass Schedule Change for April 18th and 19th

-

Due to the Diocesan Priest Convocation, please note the following schedule changes: Tuesday, April 18th – No Mass Wednesday, April 19th – Confessions at 4:30pm; Mass at 5pm

We reached our CMA goal!!!

-

Thank you so much to all of our parishioners and contributors, who helped us to reach our parish goal for the Diocesan Catholic Ministries Appeal (CMA). May God bless your generosity and your commitment to our Cathedral parish!