Sacred Heart Cathedral hosts a women's fellowship and book study group. We meet every Friday from 10:30 a.m. - Noon. All women are invited and children are warmly welcome. Babysitting and activities are available.
This is an open study; come whenever you can. You are always welcome!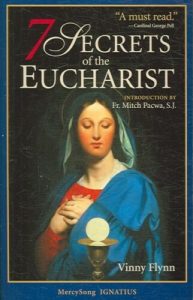 We are currently reading:7 Secrets of the Eucharist by Vinny Flynn (Out of print, however used copies can be found on Abe Books, ThriftBooks, and other sites.  Please contact us at the email below if you cannot find a copy!)
Reading Schedule:
Into, Forward & Secret 1 - April 21
Secret 2 - April 28
Secret 3 - May 5
Secret 4 - May 12
Secret 5 - May 19
Secret 6 - May 26
Secret 7 & Afterword - June 2
Coming Soon!!
Upcoming Books or Events